>

TASTE OF SOUTH INDIA

Yummy Veg & Non-Veg Recipes.
---
Just few clicks away from delicious, mouth watering recipes!!!
I am sharing recipes, some of which are the contributions from my mom and from my mother-in-law.I hope U would all enjoy trying some new recipes. Come again often, as i am working on adding new recipes.
---
Visitor's Recipes
---
A Home-Made, Original Recipe for an Oven-Baked Pizza
When it comes to certain foods it becomes human nature to depend on someone else to prepare the food or meal. Many things can be created in the kitchen, but something as simple as a pizza is usually only a phone call away.
However, if the idea of an original pizza sounds like a new cooking idea, then look no further than oven-baked homemade pizza. With an oven-baked pizza from home, the pizza is an original creation from start to finish, especially if you have a Californo outdoor pizza oven for that authentic Italian appeal.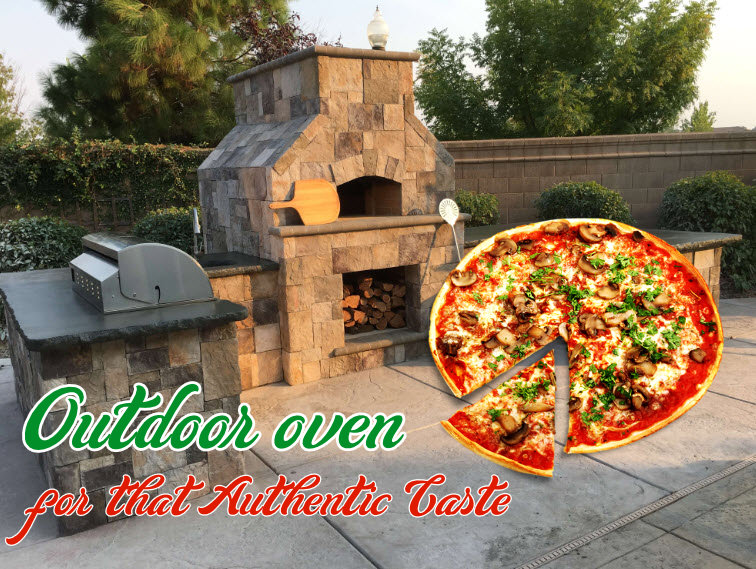 The recipe listed below is not a "barebones" made from scratch recipe, but it is certainly homemade in the respect that preparation, assembly, and cooking time are strictly up to the individual.
Even though the recipe does not include fresh ingredients, the individual preparing and cooking the pizza is welcomed to substitute any of the main ingredients for fresh ingredients. Granted the addition of fresh homemade sauce and/or cheese will certainly be time-consuming, anyone and everyone are very much entitled to add personal flavor and flare to the recipe.
RECIPE FOR OVEN-BAKED PIZZA
Serves 1-2 people
Ingredients:
*1 pizza crust
1 package of whole milk mozzarella cheese
1 package of taco combination cheese - (blend of Cheddar, Colby, Monterey Jack, and Manchego cheeses)
1 jar of tomato and basil sauce blend
1 container of parmesan cheese powder
*Based on personal preference the crust can either be regular, thin, or thick.
Directions:
Preheat oven to a temperature of 450 degrees.
Place pizza crust on either a pizza pan or nonstick tin foil.
*Add the tomato and basil sauce blend and cover the crust while leaving ½ an inch of space between the edge of the sauce and the exposed pizza crust.
Generously apply parmesan cheese over the sauce and form a "snow" topping.
Add mozzarella cheese and be sure to use a substantial amount because mozzarella is the "cheese base" for the pizza.
Sprinkle the taco blend cheese over various parts of the pizza surface.
Bake pizza according to the time provided on the pizza crust packaging bag.
**Once the edges of the pizza are golden in color, the pizza is considered lightly baked.
*An area of exposed crust must be allowed so the pizza can be properly handling while being served or consumed.
**In order to achieve a darker and crisper texture, allow pizza to cook longer. The time provided on the pizza crust bag is simply a "general" time. The pizza can be cooked longer to achieve a personal ideal texture.
---
Silicone Offers Multitude of Benefits in the Kitchen
Silicone has become an indispensable element in the kitchen. From kitchen utensils, baking sheets, pot holders and many more uses, this material is more likely that product developers can find the versatility of this material even more useful in cooking and preparing your meals. Although there have been not enough studies done as to address the safety of silicone cookwares, it's popularity is exponentially growing.
Food-grade silicone is heat resistant to over 600° F. It has a long life and resists staining, and doesn't retain odors of the foods it comes in contact with. Further, silicone doesn't break down or lose its shape due to extreme temperature exposure – a definite plus when used on a spatula, to bake a cake in the oven, or even basting meat out on the grill.
For years, silicone has evolved to become a "wonder" material. It is manufactured like rubber, using injection or compression molding so that it can be shaped and colored in virtually any way we want. Not only useful in the kitchen, but silicone rubber is also a vital component in most office and industrial tools that requires user interface to run these machines.
Silicone has great release properties and can be used in the oven, microwave or freezer. It is even dishwasher safe. Add to all these benefits, the rainbow of fun colors available, and silicone is destined to become a staple in the kitchen.
When tempted by all the offerings, compare the benefits of silicone with the usability of the product. Is the silicone there to make the product work better? Or, is it simply there for aesthetic reasons?
Silicone food trussing strings are a handy alternative to kitchen twine (and are reusable). Silicone pot holders are flexible and easier to use than regular pot holders, especially when grasping small handles. Silicone baking mats are ideal for placing on a cookie sheet – or for rolling out dough when you don't want to add excess flour to prevent sticking.
Similarly, silicone rubber rolling pins provide home bakers to conserve flour on pastries. Home cooks can save storage space when they use flexible silicone colanders that collapse in a snap while color-coded silicone measuring cups allow for effortless baking or cooking in the kitchen.
When using a silicone mold to bake a cake, for example, it does take some getting used to. You will most likely need to place the flexible mold on a larger sheet pan for support moving in and out of the oven. Further, silicone doesn't always peel away from the cake smoothly, and doesn't brown the outside (creating a texture that makes it easier to frost) like a conventional metal pan does.
In particular with bakeware, the thickness of the wall helps with balance in baking. If the wall is too thin, then the heat doesn't have time to distribute evenly. Conversely, if too thick, it takes too long of a time for the heat to transfer.
There are many different grades of silicone and to get most benefits of silicone, it is important to purchase products made with high-quality silicone, as opposed to those made with fillers. The addition of fillers can affect the heat stability of the product. To check if the product is made with fillers, simply twist a piece and if it remains the same color, then there aren't any bulk fillers.
Care and maintenance of silicone is very easy. To clean, soak in warm soapy water and be sure not to use abrasive soaps or scouring pads. Silicone bakeware is easy to store as well
While it is heat resistant to high temperatures, silicone should not be placed on direct heat, such as stovetops. For best results, be sure to follow the manufacturer's guidelines on the packaging for use and care.